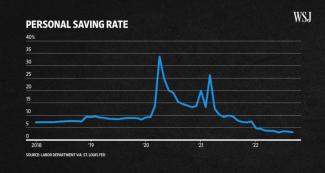 What Lessons Have We Learned?
Americans have historically been known to not be big savers compared to our foreign counterparts' savings rates.  When the pandemic hit, we were forcibly removed from our discretionary spending habits and households were receiving cash infusions from government stimulus in a variety of ways.  That led to a historic high of what I call a false personal savings rate because it really was not by conscious choice.  In 2020 alone, the personal savings rate went from just below 10% to a high of just below 35%.  Now, this chart reflects money left over after we pay our essential bills, showing that our average personal savings rate has fallen to well below 5%.
What lessons have we learned from the Great Recession and the sudden impact of the pandemic on our business plans and personal lives?  When shelter-in-place first started, I launched a free weekly webinar series open to clients and anybody else to help increase financial consciousness and make good use of the downtime by learning new strategies.    We can fool ourselves into equating taking in information as action but if we do not implement the new knowledge into our behavior, we cannot expect to see much improvement.  "Analysis Paralysis" is a phrase that speaks to taking in a lot of information to analyze but not taking the next key step of acting on it – being stuck in paralysis.
Well-funded financial accounts give you more options when the unexpected happens.  Since behavior can be so hard to adjust for the better, embracing good counsel can help increase your chances of success.  As we wrap up a turbulent 2022, I encourage you to make time for some robust financial conversations so you can stay on a trajectory of growing strength for the future.  It is a wonderful feeling to be financially prepared to take advantage of beneficial opportunities that may come our way.